In our second issue of the year, we're looking at how businesses tailor their brands to meet the needs & wants of the Gen Z demographic.
Who is Generation Z?
Gen Z. Source: Medium
Gen Zers are born from 1996-2010, after millennials. They grew up with the internet & mobile technology, hence are no strangers to social networking. Having been exposed to technology from an early age, they are very used to having information at their fingertips within seconds. As the first digital natives, they are more than comfortable with finding and comparing large pool resources online, which in turn affects their decision making. 
A Gen Zer is not confined to having only one way to define themselves. They love the concept of being "free" and are constantly experimenting with different ways to express themselves. They do not discriminate between friends whom they meet online or offline.  As such, they appreciate and value online communities as they serve as platforms for Gen Zers to connect with people with similar hobbies and causes from different walks of life. 
"Our study based on the survey reveals four core Gen Z behaviors, all anchored in one element: this generation's search for truth. Gen Zers value individual expression and avoid labels. They mobilize themselves for a variety of causes. They believe profoundly in the efficacy of dialogue to solve conflicts and improve the world. That is why, for us, Gen Z is "True Gen." 
It is key for companies to understand what Gen Zers are greatly motivated by – The search for truth; which plays an important role in influencing their take on consumption and relationships with brands. 
---
Here are 5 key points to help communicate with Gen Z more effectively:
Source: Medium

1. Create an empowering design for Gen Z
Since the birth of Gen Z, they always held answers to any questions within the palm of their hands. Having a great sense of self-reliance, they are able to discover anything they want without any help, by navigating their way seamlessly through technology.
Gen Zers are innovative 'unique-seekers' who like to constantly push boundaries. To better resonate with this generation, design needs to be 'empowering' and displayed in a way that is capable of shaping their environment, inspiring personal growth. This could be exciting for designers to play and experiment with bold colours or images that may seem clashing, yet confident. 
In a recent concept exploration of an online beauty rebranding — a scope by design to exploit the 'unintended'; it was discovered that in the developmental phase, a bold concept with a challenger proposition of "Breaking the Rules" resonated the most with Gen Z. When designing for this audience, it is not simply about aesthetics and good looking design. It is important for Gen Zers to understand how a brand can improve their daily lives, wellness, and productivity. 
To instill loyalty in a Gen Z consumer, design needs to not only be beautiful, but functional. Content should also be adaptable across different platforms and work well in different spaces from mobile to desktop, ensuring fonts are accessible and legible.
2. Flexible Branding
Gen Z wants to associate themselves with brands that mirror their desired identities & personas. With a lifespan of less than 5 years, a brand can get dated easily. In order to compete against young emerging brands that are targeted towards the new generation's needs, brands need to deliver consistency, reinvent themselves regularly and stay refreshed.
Brands need to be flexible, consistent and stay true to their brand values in order to keep up to date with the rapidly changing Gen Z end user. This can be attained by using designated brand assets such as colour palette, logo, and typography while still producing seasonal assets such as icons and colours to keep in trend and make the brand exciting. The entire brand can be easily refreshed with a flexible brand system in place. 
3. Sharable content
Gen Z has an absurdly short span of attention. Gen Z, the first generation born in the digital age, is so used to switching between multiple screens. They are more easily distracted than any previous generations, so it goes to say capturing their attention is no easy feat. 
The most effective way to tackle their short attention span is to design in their language – making use of short videos, image loops, text overlay images and quotes. Readable fonts throughout all platforms are a must. Utilizing vivid, eye-catching color combinations can make a brand stand out from the crowd.
Gen Z is only concerned with genuine, casual and informative content, even better if it is shareable ASAP. By making your content instantly shareable, you have an opportunity to mobilize an army of social media natives who can help boost and increase your brand awareness exponentially.
4. Real users testing
The digital age offers us opportunities to grasp real-time customer behaviour, both within a brand's platform and on social media. Designers no longer have to hope that their design will resonate with a particular target audience as they are now able to test designs with real audiences and adapt their design as consumer behaviours. 
It is important to forge a connection and offer what Gen Z needs at all touchpoints; either through the brand's platform or other social media platforms. In order to be genuinely consumer-centric, the only way to know if the result generates a favorable response is to test with real users and improve with new insights. However, it is important to note that what works for one brand competing for the attention of Gen Z might not work for other brands.
5. Design based on brand value
The launch of a new brand identity can revitalize an old and dated company. Any new identity should still reflect the brand's core values & culture. Gen Z are sharp-witted and are not afraid to call out a brand on social media if it is not authentic or trying to be something it is not. 
The challenge for well-known brands to execute a brand refresh and appeal to younger customers is how close it stays to its core values. The new brand must not deviate from its core values too much, but be part company's DNA. 
To be effective in this field of design, explore the company, study its culture and target audience in scrutiny. All rebranding has to start internally with everyone living and breathing the brand as one, so that communication to external stakeholders will be consistent and compelling. Companies can build a rapport with employees to determine the company's vision and how it can adapt to communicate and connect more effectively with Gen Z.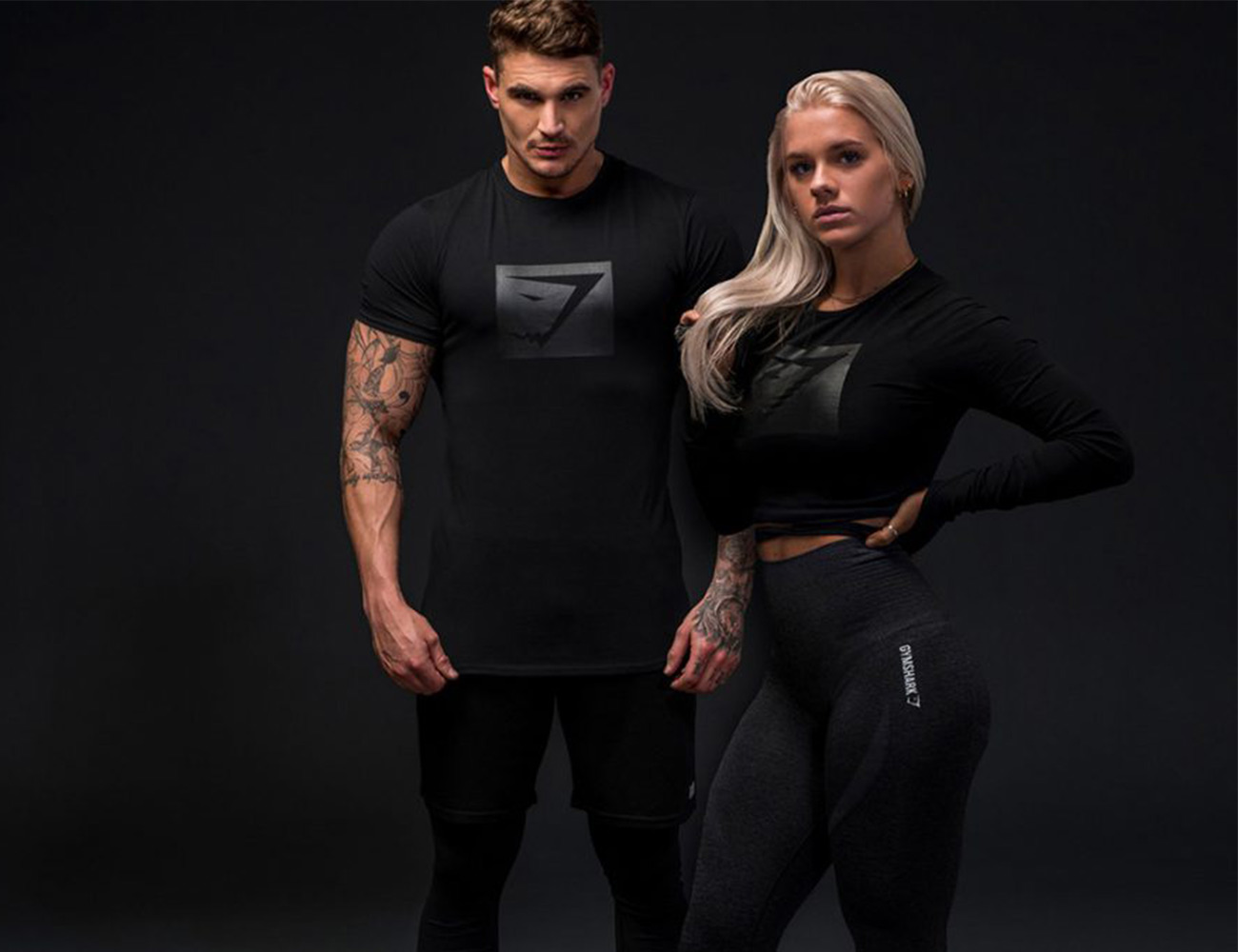 Source: Beeketing 
One brand that has successfully targeted Gen Z is Gymshark, which started in 2012 by Ben Francis who was just a 19-year-old student. It all began when Gymshark first attended BodyPower Expo which is one of the premier fitness trade shows. Apart from building the brand name, he and his friends worked hard to develop the Luxe fitting tracksuit which became a significant contributor to Gymshark's growth and success, reaching higher than expected sales volumes. 
After the trade show, Gymshark dived into the e-commerce market and started listing products online. It attracted a large amount of traffic and sales within the first half an hour. The brand made an estimated $42,000 in a single day as compared to making $400 a day in the past. 
Six years later, Gymshark has become a global fitness brand which ships to 131 countries. With a large audience of 65M followers, any new launches sell out within hours of their release. The majority of its audience are the Gen Zers.
Social Media

Gymshark is heavily invested and active on various social media platforms mainly – Youtube, Facebook, Instagram, Pinterest, Twitter etc. The brand has a huge following, and it is important for us to understand that Gymshark does not use social media tools as a way to generate direct sales but rather to build brand awareness with consistent branding throughout all channels. 
Influencer Marketing
Gymshark's growth was built around social media and leveraging the strength of the community. Having partnered with social influencers who are also fitness athletes, Gymshark leverages them as brand ambassadors. Each ambassador has hundreds or even thousands of followers on different social media channels, which helps to bring in a decent number of fans into Gymshark.
An example of Gymshark's consistent branding efforts is reflected in their use of Instagram. The brand has 3 different Instagram accounts, each targeting different audiences while having one consistent brand language. 
Gymshark's Instagram accounts. Source: Beeketing
@gymshark (Main account)
3.1M followers.
News, events, promotions, etc. from Gymshark. The main goal is to educate and engage with their followers, which eventually drives their sales
@gymsharkwomen
2.1M followers.
The name says it all: it's where Gymshark's women show off
@gymsharktrain 
532K followers.
Where you can find training or inspirational daily videos from the Gymshark family
---
Breakdown of traffic from each platform:
Gymshark's Social Media. Source: Beeketing
Youtube
Contributing to almost 60% of Gymshark's traffic is its YouTube channel. Gymshark is focused on adding more value-based and topical content to its videos, instead of showcasing only brand campaigns. Through sharing behind-the-scenes videos about its brand story and athletes, the brand is not afraid to show its vulnerability, transparency, and success stories. By doing so, fans can better resonate with the brand and in turn gain and continuously build trust amongst fans which is consistent with Gen Zers' search for truth.
Tik Tok
Gymshark noticed TikTok's potential as another effective marketing channel to engage with its audience and fans. Understanding that TikTok users love music, Gymshark partnered with fitness and lifestyle influencers and introduced "66 Days | Change Your Life" – an inspirational challenge to encourage personal growth. Followers must choose a personal goal and upload a photo of themselves at Day 0 versus Day 66 for a chance to win a year's supply of Gymshark goods. It creates a way to meaningfully engage and connect with fans.  
Conclusion
Gymshark has forged a long-lasting relationship with its followers by being present on huge social media platforms. Every image and video shared by the brand is consistent and compelling across various platforms. Gymshark does not view social networks as tools to drive sales, but instead the goal driving its social media strategy is to build brand awareness by providing their fans with valuable content.
---
Successful Marketing Campaign by Gymshark
Source: Strategy Plus
The Black Friday sale is one of the most successful campaigns for Gymshark that generates a huge stream of sales. This sale – called Blackout – lasts a week, features different content each day – From models wearing Gymshark's Black Friday Exclusive products to creating user-generated content (UGC) from fans, making them feel included in the campaign and brand. A wide array of Instagram ads are used concurrently (stories, carousel, dynamic ads in the Instagram feed) to hype up the campaign.
The feeling of FOMO (Fear Of Missing Out)
Gymshark Blackout. Source: Strategy Plus
Gymshark leverages this psychological phenomenon by creating a countdown timer at the start of the sale on Monday at 3 pm and closing down of the site:
The strategy (the timer and blackout deals) also appear on various influencers' social media platforms, creating a big hoo-ha. Once the countdown reaches 0, the website is reopened with attractive offers. With everyone at the same starting point, all items are up for grabs at a first-come-first-serve basis.
---
Gymshark Central Blog (Online)
Gymshark's Blog. Source: Gymshark
Gymshark Central Blog acts as a hub that provides valuable content for fans. They provide tips, tutorials, and recipes that are related to health and fitness. This has positioned them well as their fans' go-to supply for health and fitness, allowing consumers to make better-informed decisions with their purchases.
Gymshark Pop-up Store. Source: Gymshark 
Pop-up Stores (Offline)
Gymshark is constantly looking to have a face-to-face interaction with its customers. It has invested in pop-up events where its team of athletes meet and engage with fans. This has led to greater awareness of its new launches while educating fans and boosting sales at the same time.
Apart from enjoying exclusive sales during the pop-up, fans can also partake in live classes, demonstrations and meet their favorite athletes. With so much activity to keep them engaged, fans do not mind waiting in line for hours in hope of getting their hands on exclusive products and meeting other like-minded people. 
One of the key takeaways from earlier articles on how to connect better with Gen Z is having a design that is inspiring and encourages personal development. Gymshark has succeeded in this area since they are focused on empowering individuals to turn ideas into action by advocating the message of "Be all you imagined you could be. Be a visionary."
Another great example from Gymshark is having a seamless inspiring brand experience when you chose to visit them online or offline.
Watch (Gymshark Pop-up Store): 
Share this article